If you have any of these parts or others please post pics and a review.
When ordering a bottom piece make sure to measure the SE model will measure across the bottom, 38 3/4" wide and the LE model will measure across the bottom, 37 3/4" wide.
I will try to put together a list of all grills available. If you have one and would like to write a review please added to this thread.
Grill Craft MX (Available in Black and Chrome)
GrillCraft MX-Series Grilles are made from our exclusive steel mesh pattern design along with our micro-frame design. All MX-Series grilles are zinc plated then finished with a 3Stage baked on powder coating in either Aluminum Silver (Shines like polished aluminum in sun light) or Gloss Black finish.
Grill Craft BG
GrillCraft BG-Series Billet Grilles are made from 6061 T6 Aluminum. All BG-Series grilles have a high-luster polished front face with a black baked on powder coating finish back ground. Our BG-Series Billet Grilles in most applications are available in a cut out style install or in easy to install Bolt/Over style with or without logo opening.
**pic needed**
Street Scene Speed Grill
Mesh Grill Upper only. Available in Brushed Aluminum and Chrome
Speed Grilles have a very unique, patented design featuring a diamond-shaped hole pattern and are available in a standard anodized 5052-grade aluminum satin, chrome, or our newest addition Black Chrome finish.
Installation instructions
http://www.streetsceneeq.com/instructions/pdf/950-78381.pdf
T-Rex Billet Grille Overlay / Bolt On
T-Rex Billet Grille Insert
Precision Design EZbillet Grilles
Made to the same high standard as their Classic Billet Grille line, these grilles install with little or no drilling or cutting. This has created an entirely new market for the Do-It-Yourself enthusiast. What makes this line stand out, is the flexibility for the installer to choose how the final installation looks.
Precision Design Vertical Billet Grilles
Precision Classic Billet Grille line has established us as one of the finest grille companies around; we have taken that one step further and added Vertical Billet to our line up.
K2 Motor
- Ebay
MADE OF CHROME POLISHED HIGH QUALITY ABS PLASTIC - EXTREMELY DURABLE
Black and chrome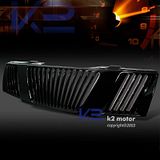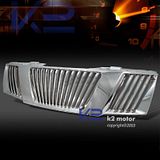 Mesh Grill
- Ebay