Five days of Camping, fishing, shooting, Off roading, and general debauchery......
Corral Canyon OHV area. lots of trails most are for quads, bikes, but this one aprox 30 miles was nice. We made it to about 1 mile from the end of the loop and had to turn back. It was dark and when DanielK's truck starts to get stuck, you are out of beer= time to turn around. Unfortunately we had to back down the trail downhill, through a stream to find a place to turn around. :smt009
Socal boys doin it up. Me, Tc3Driver (TitanSpot), DanielK (TitanSpot), and Firebreed (Fronty Spot). Me & Firebreed (Brandon) in his pre-runner 1st gen 2wd Frontier... Tc3Driver and my buddy Mike in his '08 2wd 8" lifted XE... DanielK and Mrs. DK in his 12" lifted '06 4x with E-locker....
We left camp around 1300 and I soon got on the CB and said me and Brandon were heading back to camp to get the tow straps.. GOOD THING...... :smt003
Met up at the trail head and started out. Pretty easy stuff for the first 15 miles or so then we started to hit large rocks and deep streams. I suggested DK post up in the middle as he is 4x with a locker an beefy shoes..
A couple of footnotes:
1- Mike did not take his diesel Silverado as it is his tow vehicle and he really has no off road experience.
2- I did not take my truck because they convinced me that if I broke it I would have to tow it and my trailer home via a tow truck.
3- I was sick (still am) that is why my voice sounds like Slingblade. lol
4- CB's are a must on trails... IMO
5- Be prepared to spend the night out there.......... We almost did.
6- Bring enough Beer to last past 1900. :smt003
7- Try to avoid hitting your dome numerous times against the window. :smt002
8- Brandon and Bill drove like pros in 2 wheel drive........ Pick the right line and get plenty of momentum. :smt023
9- Tow straps......... a lot of them........... A MUST
10- When crossing a creek etc. have plenty of room out front 'cause you have to go real fast to get through in 2x..
11- Have a friend on the trail with you like Bill, Brandon, and Daniel that are fearless and can drive like no other.
12- Take at least 1 truck with 4x and a locker.
13- Make sure you have plenty of memory on you camera and batteries. :smt021
14- Tell your wife at camp not to call the Ranger unless you dont make it back by a set time. (Mike's wife was gonna call at 2100 and we got back 3 minutes before that)
15- Relax, and have fun! :smt004
Now for the pics / vids......
Trail head.... left to right. DK, Mike, Me, Brandon.... Tc3 taking phtoto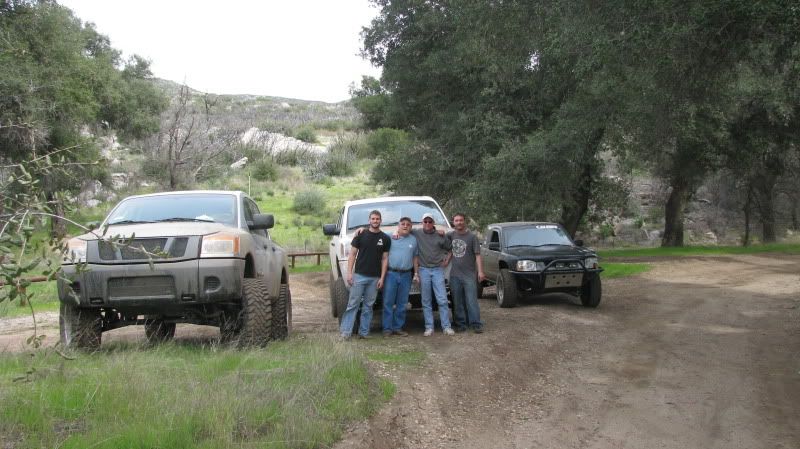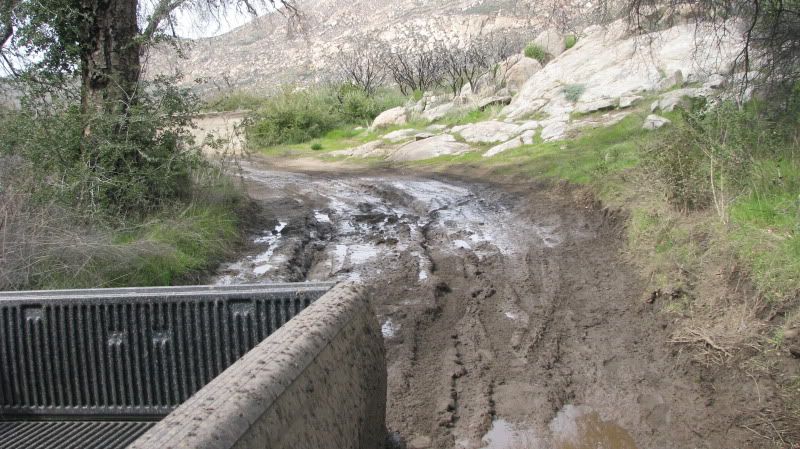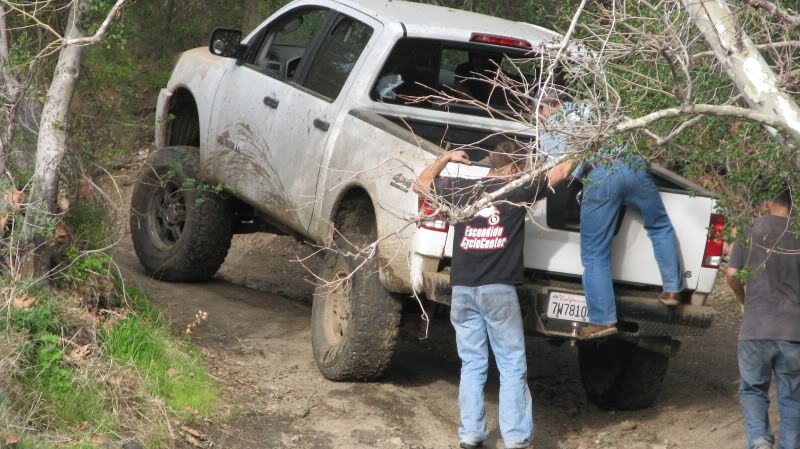 Videos.......
:smt002
[youtube]
http://www.youtube.com/watch?v=gi_mhi80_sk[/youtube]
[youtube]
http://www.youtube.com/watch?v=zy7gXCBwwro[/youtube]
[youtube]
http://www.youtube.com/watch?v=vIVD5qoqw6M[/youtube]
[youtube]
http://www.youtube.com/watch?v=PaN9UAv0cQA[/youtube]
[youtube]
http://www.youtube.com/watch?v=5L69X-hR3yw[/youtube]
[youtube]
http://www.youtube.com/watch?v=j-splAbAAF4[/youtube]
[youtube]
http://www.youtube.com/watch?v=cHyFQp_SERA[/youtube]
[youtube]
http://www.youtube.com/watch?v=7NootXLt8LU[/youtube]