Well since no one has started this I may as well.
If you have any of these parts or others please post pics and a review.
K&N 63 Series
63-6014 Product Specifications
Product Style: 63 Series Aircharger Kits
Estimated Horsepower Gain: 14.27 HP @ 5075 RPM
Replacement Filter: RF-1014
CARB Exempt: No
K&N 77 Series
77-6014KP Product Specifications
Product Style: 77 Series Kits
Estimated Horsepower Gain: 11.63 HP @ 5200 RPM
Color: Polished
Replacement Filter: RF-1014
CARB Exempt: See Application Link Below
CARB EO Number: D-269-31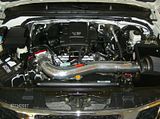 Nismo CAI
This NISMO powder-coated heat shield helps position the air intake filter, away from the engine for cooler, denser air, for improved engine performance. Intake length and diameter tuned for maximum performance and designed on the dyno for real-time power gains throughout the range.
# Mandrel-bent 3.25" tubing maintains a consistent inside diameter, made from 601 aluminum. Soft-mounted to the body for optimal fitment, includes a reusable, 1-piece washable air filter. Powder-coated black finish with NISMO logo. Not for street use, this product does not carry any type of warranty. Benefits: Maximum gains of 10.5 hp and 9.5 lb-ft at the rear wheels
# Peak power gain of 8.5 with power gains across the entire rpm range
# Tested on Frontier V-6 VQ40DE engine (this is the same engine in the 2005+ Pathfinder and Xterra)
# Provides a more aggressive intake sound over stock system
**pic needed**
AEM Cold Air Intake - Brute Force - Polished
MFR#: 218504DP
AEM BRUTE FORCE AIR INDUCTION SYSTEM, POLISHED, DRY FLOW FILTER -- Engineered For Maximum Horsepower And Torque Development, Dyno Tested 5 To 12 % Increases, New Dry Flow Synthetic Filter Never Needs Oil, And Eliminates Vehicle Warranty Issues, 99.4% Flow Efficiency
**pic needed**
AFE Cold Air Intake - Magnum Force Stage 2
MFR#: 5410492
AFE MAGNUM FORCE STAGE 2 COLD AIR INTAKE SYSTEM -- Replaces OE Air Box, Filter And Factory Intake Tube, Gains Up To 50 Hp, Increases Ft/Lbs Of Torque, Improves Airflow Up To 75%, Fuel Efficiency And Throttle Response, Uses Factory Mounting Points, Easy Installation Guaranteed
**pic needed**
Injen Cold Air Intake - Polished and Black Aluminum
MFR#: PF1959P
INJEN POWER-FLOW INTAKE SYSTEM, WITH MR TECHNOLOGY, POLISHED -- A Fully Tuned Air Intake System That Features Patent Pending Mega Ram Technology, This Technology Regulates The Volume And Velocity Of The Charged Airflow By Using Variable, Calibrated Diameter Aluminum Tubes Resulting In Massive Performance Gains All While Maintaining The Factory Safe Air/Fuel Mixture, This Air Intake System Is Fine-Tuned For This Specific Application, Includes A Manufacturer's Limited Lifetime Warranty
**pic needed**

Volant Cold Air Intake
MFR#: 12640 and 12633
Cold Air Intake, With Box, Gain Up To 18 Horsepower And 40 Ft Lbs Of Torque, Improves Gas Mileage, Includes Volant Air Duct, Shield, Ram Filter, Silicone Connectors & Stainless Steel Clamps, Polished Aluminum Lid, C.A.R.B. Approved In 50 States, Installs In 20 Minutes Or Less
**pic needed**
I love my NISMO CAI. It is fantastic. However its not very CA friendly since its not CARB legal lol.
I was undecided between this and the volant since I liked Volants closed box design but I got a good deal on this thing and have yet to regret it =P
What CAI's do you guys/gals have?