If you have any of these parts or others please post pics and a review.
Gibson - Aluminized and Stainless Steel
1. Kit comes with 3.5'' stainless tip(s)
2. 3" Tailpipe
http://www.gibsonperformance.com/products.asp?pid=14297&make=30&model=883#883
Banks Monster Exhaust
3" stainless mandrel-bent cat-back pipes and straight-thru muffler cut backpressure up to 93%; improve flow up to 104%; throaty sound; 4 polished tip. Bolt-on direct fit.
http://store.bankspower.com/Categories.aspx?Category=75b52a99-5ce1-4107-bfed-8a51799b58b4

Bassani Stainless Steel and aluminized
2" into 2 1/2" dia. tube, Y crossover, 2 1/2" dia. tube outlet, 5x10 muffler, 4" rolled edge slash cut resonated tip. Stock location exit.
http://www.bassani.com/part/BX400515
**pic needed**
JBA Evol Catback Exhaust
This system dyno-tested for average gains of 10 hp, 12ft/lbs of torque. Proudly crafted in the USA.
# Aggressive sound without annoying interior resonance.
# Mandrel-bent tubing
# High flow JBA muffler
# Polished stainless steel chrome plated 3" rolled lip tip with JBA logo
# O.E. style exhaust hangers
# Will not void factory warranty
409-L stainless steel tubing 409-L stainless steel is a cost-effective, high-grade, low carbon steel with excellent corrosion resistance, and strength. Great for that "show" look. Lifetime Warranty
http://products.jbaheaders.com/index.asp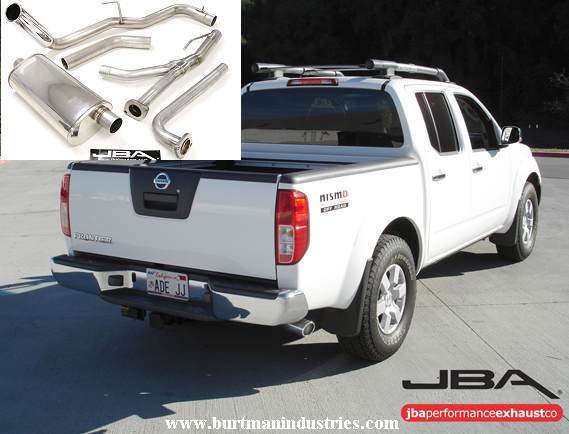 Nismo
# Dyno proven performance
# Frontier Crew Cab Long Bed - 3.7 HP and 6.0 lb-ft torque increase at rear wheels
# Frontier King and Crew Cab Short Bed - 5.3 HP and 7.5 lb-ft torque increase at rear wheels
# Mandrel bent all stainless steel construction with flanged connections and polished muffler
# 2.25" diameter stainless steel Y-pipe with 2.5" primary tubing
# 3.5" diameter polished 304 stainless steel exhaust tip with laser engraved NISMO logo
# Exhaust exits at OE point to maintain engineered clearances & off-road capabilities
# Authorities exhaust note provides aggressive sound during acceleration while meeting federal and state noise compliance laws
# Exhaust system harmonics have been optimized to prevent interior cabin buzzing or droning during normal driving
# 50 State emissions legal does not effect OBDII system function
# Precise bolt on installation - a direct replacement for OE exhaust